We don't realize the convenience of our septic system until there's a problem with it. If problems with your system are causing chaos in your plumbing, it's time to give American Plumbing & Heating a call. We're able to provide you with the septic repairs you need, as well as brand-new tank installations if yours has reached the end of its service.
We approach septic service in Casper, WY with great care because we know how essential a properly working system is for your home. Count on us to get to the root of any problems and resolve them in their entirety, so you're not left dealing with lingering issues.
Repairs

When issues like backflow or pooling leach fields threaten the integrity of your septic system, count on us to resolve them. We have the ability to install backflow preventers and new sewer lines, and resolve damages that may be affecting your septic system's performance.

Installation

Do you need a brand-new septic tank installation in Casper, WY? When your tank reaches the end of its life or your household capacity demands a larger tank, we'll work with you to make sure you get a new one properly installed.
*Please note that we do not offer septic pumping or tank balancing services.
Excavation Work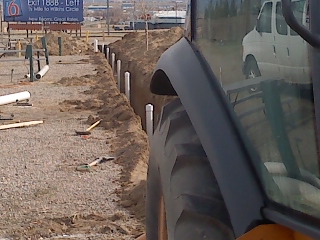 In performing septic system work, we bring excavation capabilities to your jobsite and are able to perform general small excavation work, such as foundation digging. Whether you're having a new tank installed or need us to perform general excavation for a project, we'll be glad to assist.
Get Septic Service
If your septic system is showing signs of damage or acting up, waste no time in contacting American Plumbing & Heating for septic repair services. From new sewer line installation, to a new tank, to backflow prevention measures, we'll put our abilities to work for you. Contact us today at 307-234-0000 to schedule an appointment.